Proyectos
En esta sección puede encontrar información sobre los proyectos de investigación conducidos por CLAS Research Center. Incluimos aquí resumenes de proyectos, publicaciones e información sobre nuestros investigadores y redes de investigacion. English



Proyecto de Investigación / Centro de Media / Biblioteca y archivos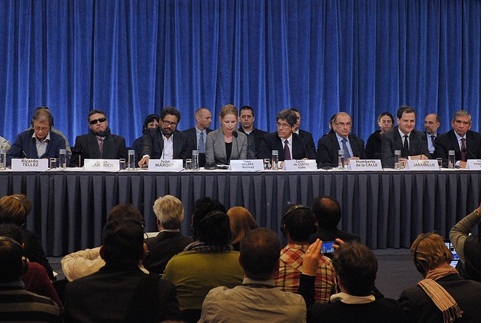 Abstract:
Este estudio es un análisis histórico comparado del conflicto colombiano y los procesos de paz desde los años ochenta, al tiempo que examina la larga historia de las confrontaciones armadas y las soluciones a éstas que se han presentado tanto en Colombia como en otros países de Latinoamérica y del mundo. Este estudio analiza las causas históricas de la violencia en Colombia, además de las soluciones militares y las negociaciones implementadas en el pasado.
PhD. Marc Chernick
Associate Professor of Political Science, MALAS Director
MARC W. CHERNICK (2008): "Acuerdo posible: solución negociada al conflicto armado colombiano" (BOOK Intro) (Comprar)



"10 Years After Caguán: Lessons for Peace in Colombia Today." (PDF)


"Lessons for the Peace Talks in Oslo and Havana" (PDF)
CLAS participa activamente en proyectos de cooperación con el United States Institute of Peace, la Universidad de los Andes en Bogotá , el Colombian Jesuit Research Institute y CINEP, con el fin de promover las perspectivas de paz en Colombia. Para marcar el décimo primer aniversario del quiebre de las negociaciones de paz con las FARC en San Vicente del Caguán, el presente proyecto publicó "10 Years After Caguán: Lessons for Peace in Colombia Today."
Partner Institutions
Universidad de los Andes
Colombian Jesuit Research Institute
CINEP
United States Institute of Peace
---
También relacionado al proyecto Proceso de Paz en Colombia en Perspectiva Comparada
CENTER FOR LATIN aMERICAN sTUDIESGeorgetown University484, 4th Floor, Intercultural Center37th and O Street, N.W., Washington D.C. 20057Phone: (202) 687.0140Fax: (202) 687.0141
Connect with us via: